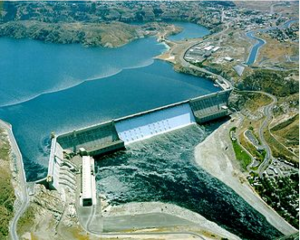 A unique project was completed in Mid-2014 at the Grand Coulee Dam, located in Washington State. The contractor was charged with the task of coating the entire draft tube surface with ICO Gel totaling a 40'x40' square structure.
The product had to meet stringent installation criterion, such as ability to cure at lower temperatures, easy to mix and apply, relatively long working and open time for application. The product had to be applied and have success with minimal surface preparation requirements.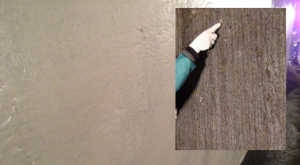 Moreover, the final product had to exhibit good flow characteristics and overall smoothness. The product had be 100% solids, (no VOC's), per ASTM C-881 be able to hold and not slump in vertical or overhead application and be able to be applied up to 1" thick in a single application.
Based on these extensive tests and evaluation, USBR had established that ICO Gel would meet all the requirements to use as the skim coat was only expected to be ½" thick.
ICO Gel can be easily and effectively installed in one step, even when installed on a damp substrate. Proper surface preparation using high-pressure water was needed and insured that the single step coating of ICO Gel gave a uniform and well-bonded surface, using standard trowel techniques.
The conditions of the concrete exhibited extreme wear, mostly in a vertical orientation. Deep striations were on average from ½" to ¾" deep and were a perfect substrate, once cleaned and roughly dried, to receive ICO Gel. The initial thought was to cover the entire surface with a ½" coating of the gel, but, the contractor ended up filling the vertical fissured with ICO Gel and applied approximately a 1/8" skim coat over the overall surface. Also present were deeper holes and some limited spalling which was also smoothed and filled with ICO Gel at the same time.  All impregnated dirt and debris on the substrate had to be cleaned and prepared to receive the product.

Access to the draft tube, which is 230 feet down from the turbine deck, was by the overhead crane lowering a six-man basket.  All tools, equipment, man-lifts, products, etc. had to be lowered down daily as needed. The material was stored above on the turbine deck to maintain a warmer product temperature and which would facilitate mixing and application. The work environment and temperature of the concrete substrate was a steady 55 degrees ºF which can make ICO Gel slightly thicker and more viscous.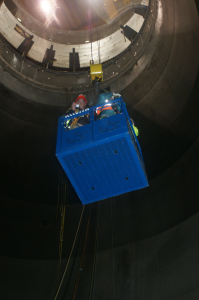 Due to site constraints including confined space requirements, normal safety standards at a hydroelectric dam, limited to no solvents allowed (for cleaning tools and potential automated application equipment), and other constraints meant that very strict working procedures had to be followed. There were also high environmental standards which applied since the Columbia River outflow is a highly sensitive area in terms of fish and wildlife.
The fact that ICO Gel could be installed over limited surface preparation and with no priming meant that the daily production rate was acceptable to the contractor and owner. Tolerance for damp (not "wet") surfaces was also a plus as the area could never really be totally dried out and humidity was virtually 100% at all times during the installation cycle.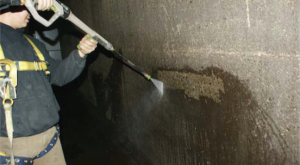 The coating concrete surface of the draft tube with ICO Gel prevented further wear, limited further degradation and erosion, with surface flow coefficients greatly improved. The USBR is confident in the overall outcome and is therefore proceeding with the same coating on the second unit draft tube in January 2016 and third in 2017-18.