SUPERCOAT DecoEffects is designed for the professional installer who is looking for quality products that offer different decorative alternatives for commercial use. DecoEffects products consist of special effect systems for different visuals for your floors. Choose from holographics or metallics, create design effects with polymer overlays using stains and dyes or color polymer overlays for stamping. Finish with high quality sealers and industrial grade clear epoxies and urethanes. SUPERCOAT breathable products are well known for preventing peeling and blistering from moisture vapor emission. Now offering the same quality products for a wider range of decorative applications.
Change normal concrete with DecoEffects to multicolored finishes. Use with stain, dyes and colored concrete. Call 800-459-7659  for more information on your particular project.
Special Effects Metallic Chip Kits
Polymer Cementitous Surfacers
Clear 100% Solids Epoxy Resins
Clear Polyurethane Sealers
Metallic Pigments
Breathable Epoxy Sealer

DecoEffects Metallic Color Flyer Countertop

DecoEffects Special Effects flyer
---
DecoEffects Special Effects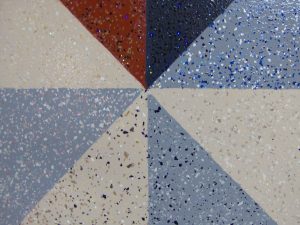 Different from standard chip floor systems, Supercoat's DecoEffects Special Effect System contains metallic particles with chip blends. Time tested SUPERCOAT pigmented epoxy finished with low odor, low VOC industrial grade urethane glaze. Kits include special blended chips with holographic reflective particles for a unique finish. One package includes everything needed for 400-500 square foot area; colored epoxy, multicolored chips, urethane finish with nonslip additive. Eight different color palettes.
Use for workshops, commercial stores, recreational rooms, lobbies, doggy and child day care, residential garages and anywhere an easy to clean permanent light reflective decorative floor system is desired.
Click to Enlarge:
---
 DecoEffects Metallic Effects
SUPERCOAT's DecoEffects Metallic Effects Systems offers a unique array of metallic colors for blending  in epoxy to create a wide range of effects from  spatter, scatters, waves, marbling, rain drops and granite among others.  The metallics are used with DE 100 clear epoxy.  Background colors for the metallic coat can be achieved with addition of liquid color packs into the DE 100 clear epoxy. Color packs available in  black, red, gray and white. Topcoat DE Metallic Effects with 550 Urethane Glaze for best abrasion resistance.
The DE Metallic Effects pigments available in 4 ounce containers of bronze, silver, gold and pearl suitable for 3 gallon mix of DE 100 clear epoxy for most applications.  Three gallons of DecoEffects 100 and metallics will cover approximately 250-500 square feet depending on surface being coated and thickness applied.  Liquid color packs are available in quart containers for background colors to enhance the metallic effects.
Click to view Product Data Sheet
Click to Enlarge:
---
DecoEffects 400 Clear Sealer
SUPERCOAT's DecoEffects 400 waterborne clear epoxy sealer is ideal for dust-proofing concrete and protecting concrete from oil, grease and automotive fluids. Use also as a sealer over concrete stain or colored concrete as a high performance alternative to acrylic finishes for better wear and chemical resistance.  For utmost in durability, add a coat of SUPERCOAT DE 550 urethane glaze coat as final coat.
The DE 400 waterborne clear epoxy is a two part epoxy available in gallon kits that  cover approximately 250-350 square feet depending on the surface porosity.   With a one hour pot life DecoEffects has a long working time and is dry after overnight cure at 70ºF, 50% RH, longer at cooler temperatures and higher humidity.   Top-coating with DE 550 Clear Glaze Waterborne Urethane  will improve durability,  gloss and  abrasion resistance.
Click to Enlarge:

---
DecoEffects 550 WB Urethane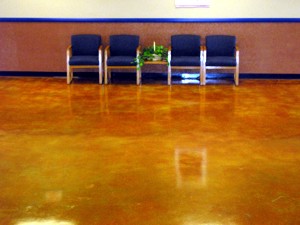 SUPERCOAT DecoEffects 550 Clear Glaze Waterborne Urethane is a multi purpose high gloss urethane used for durability, chemical and abrasion resistance for decorative floors. As an aliphatic urethane finish DE 550 Glaze offers the best performance to extend the life of epoxy systems. Use as a finish coat with both the DE 100 epoxy and DE 400 water-base epoxy.
The DE 550 Clear Glaze is a two part urethane available in gallon kits that cover 300-400 square feet depending on texture of the floor to be coated. This product has a one hour pot life with an overnight cure at 70ºF. The DE 550 is a crystal clear, non-yellowing coating that creates a hard durable finish. This product is also ideal as a finish coat over decorative chip systems. DE 550 clear waterborne urethane is low odor, very low voc (volatile organic compound) and is resistant to most automotive liquids after full cure and hardening.
---
DecoEffects 100 Clear Epoxy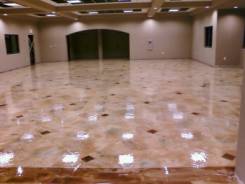 SUPERCOAT DecoEffects 100 clear epoxy, a 100% solids formulation offers film build from 8 to 30 mils. It is usable for priming or sealing concrete polymer surfacers, colored concrete, stains or for use with metallic pigments. SUPERCOAT DecoEffects 100 clear epoxy has also been used for decorative counter tops.
The DE 100 clear epoxy is a two part thermosetting high solids epoxy available in 1.5 gallon kits that cover 300 square feet when used as sealer or primer at 8 mils; 150 square feet per kit at 15 mils where film build is needed; or 80 square feet per kit at 30 mils for maximum film build. This product is immediately poured onto the surface to be coated once mixed, is spread with squeegee or trowel and backrolled to uniform finish. This material has a 20-30 minute working time at 70ºF once applied to surface. DE 100 is not recommended where moisture vapor emission exceeds five pounds based on calcium chloride test method.