SUPERCOAT comes in a variety of finishes and each kit includes assorted colored chips you can add to custom design your floor's finish.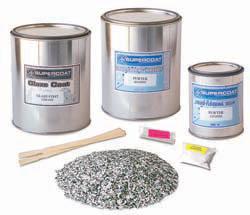 Features:
Available in 8 designer colors, SUPERCOAT rolls like paint, wears like steel. Plus, our Residential Glaze Coat is included.
Kit includes: SUPERCOAT 2-part epoxy coating, decorative flakes, cleaner/de-greaser, anti-slip aggregate, stir stick and easy-to-follow instructions.
Each kit covers 400-500 sq. ft. We recommend two coats for dark colors, such as red or blue.
SUPERCOAT is applied with a high-grade paint roller (3/8″). The Glaze Coat is applied with a 1/4″ nap roller. The floor can be walked on in 24 hours; heavy objects can be placed on it in 96 hours.
Applications: SUPERCOAT can be applied to concrete, wood or metal after it is thoroughly cleaned. Once the two components are mixed, it has a two-hour working life. SUPERCOAT requires a 24-hour curing time before it can be walked on. At that time, the Glaze Coat can be applied. We recommend waiting 96 hours before placing anything heavy on the coated surface.