SUPERCOAT Industrial Glaze Coat is a two-component waterborne, low-VOC urethane coating that adds to the beauty of your SUPERCOAT floor while helping to protect the decorative flakes.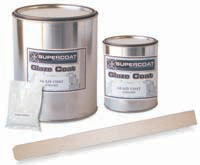 Features:
The best way to enhance and protect your SUPERCOAT floor.
Kit includes: SUPERCOAT Industrial Glaze Coat, anti-slip aggregate, a stir stick and easy-to-follow instructions.
Each kit covers 500 sq. ft. (approximately a two-car garage)
A two-component, industrial grade urethane glaze coat that is very easy to apply. This coating can stand up to the harshest of conditions and still look fantastic!
Applications: SUPERCOAT Industrial Glaze Coat can be rolled onto a thoroughly cleaned floor once the epoxy coating has fully cured. Objects may be placed on it after 96 hours of cure time.
Caution: Some new, high-performance tires may stain fresh urethane coatings. Based on industry standards, a protective mat should be used under each of these tires for at least 90 days (until the cure cycle is complete).